Start your genealogy research with these megasites!
Locate your families in each US census (try ancestry.com) starting with 1930 and find them in each census year. Different questions were asked in different censuses. This info will help to link families together.
Revisit these sites periodically and search again. These sites are always adding new databases.
Document your sources.
Look for historical documents that can verify your information, rather than relying only on other people's submitted family trees.
A photo found using Google images.
Barnegat Lighthouse, NJ
by L'Aquatique
From Wikimedia Commons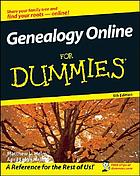 A book found using WorldCat.
Top Ten Genealogy Websites
1) Ancestry.com
This is the largest commercial genealogy website with a collection of over 14 billion records. These include census (U.S., Canadian, and UK), birth, marriage, death, military, immigration, naturalization records; digitized books and city directories; wikis, blogs, DNA services,and Family Tree software; and over 60 million member contributed family trees. New records are constantly being added from around the world. This site has great search capabilites. You can use search filters, sliders to narrow results, search specific collections of records or search from within your contributed family tree. The library edition of ancestry.com is available for free at some public libraries such as Allentown and at Family History Libraries within their portal. Various personal subscription packages are available. Some databases are free for anyone. Much family history can be found here so it is epecially good in the early stages of your genealogical research. It is the #1 genealogy website in web traffic.
2) FamilySearch
This is a free website by the Church of Jesus Christ of Latter-day Saints (Mormon church). This website provides free access to billions of records from the world's largest genealogy collection from their library in Salt Lake City. Records are added constantly from around the world. Strong online collections for the US, Canada, Europe, and South America. Explore their Wiki for great articles, search their online catalog, ask for research assistance, browse historical records, search or add photos, search digitized books, volunteer to index records, borrow microfilm, or look at user submitted family trees. An amazing amount of information - all for free.

3) Cyndi's List
An extremely comprehensive collection of links to genealogical web sites. Strongly recommended by genealogy researchers. A great starting point for online research. Very valuable in helping you decide where to look for information on specific genealogy topics. Cyndi Howells list is both browsable and searchable. There are more than 333,000 links in about 205 categories! Use it as a portal to the hidden resources on the Internet.
4) My Heritage
My Heritage is a multilingual website that is growing quickly. It has about 6 billion historical records, 27 million family trees and 200 million photos. If you upload you tree into this site, it automatically matches names in your tree with its records and other trees. It has historical records from 48 countries, US and UK censuses, immigration and tombstone records. It is expanding its records by partnering with Family Search, Billion Graves, Dead Fred, Tributes.com, 23andme. RootsMagic software will automatically search this database. Their basic plan is free. Their premium plan is not free. Family History Centers have the library edition available through their portal.
5) Genealogy Bank
GenealogyBank has one of the largest collection of digitized historical newspapers. It has over 6,500 newspapers from 1690 to today from all 50 states. Obituaries, birth announcements, marriages, local stories, passenger lists, crimes, gossip, etc can be found in newspapers. Searchable by state. Free search of the Social Security Death Index from 1936-2011. 30 day trial or subscription.
6) Find a Grave
A free collection of 121 milion grave records which are searchable by name or by browsing the cemetery. Many records have photos of the gravestones. If no photo, just request a volunteer to take one. Add burial records or post "virtual flowers."
7) Fold3
A great website for researching U.S. military records. It's more than 441 million records are all searchable and linked to images. Formerly named Footnote.com until Ancestry.com acquired the company in 2010. Key resources include Revolutionary War pension files, War of 1812 pension records, Civil War records, FBI case files, WWII draft registration cards, Navy cruisebooks, Vietnam, and casualty lists. Basic membership is free, but All-Access membership is a subscription. Available for free at Family History Centers' portal. 7 day trial available.
8) USGenWeb Project
A free volunteer coordinated web site of state and county projects dedicated to putting full text genealogical materials online. Includes cemetery records, census data, family histories, diaries, church records, obituaries, etc. Queries may be posted to local counties. A great place to start when looking for individual state and county pages. A great place to explore the county you are researching for local information not found on the megasites.
9) Google
Google is very valuable beyond just typical web searches. Not a genealogical website, but so handy for the family history researcher. Try the advanced search form found under settings, or quotation marks, or the minus sign, or other operators. Use Google to search specific sites or include the word genealogy in your search. Search for photos on images.google.com or maps on maps.google.com. Download Google Earth and find your ancestor's farm in Europe. Go to apps, then more, and use translate, books, news, blog, or scholar. The details you find on Google can make your family history very interesting!
10) WorldCat
Not a genealogy site, but a catalog of most of the world's libraries. These libraries have holdings of over 2 billion items. Search many libraries at once and locate the item in a library nearby. Or request the book at your local library through interlibrary loan. Photocopies of articles may also be requested through interlibrary loan. WorldCat now links to more than a million listings for FamilySearch's Family History Library.